What happens in Vegas, stays in Vegas.
December 16, 2010 in Statues
 Vegas and I have a love hate relationship.  Going there always seems like a good idea.  But when I get home, I have an STD, a weeklong hangover and I'm missing about $1000.  And why do they even have restaurants in Vegas?  When I'm there I don't think I have consumed more than 500 calories of food a day.  Seems like I get most my nutrition from beer and bourbon.
I have been to the Rio a few times and have seen this statue.  I actually thought about humping it, but never did.  I actually have received a few pictures of this statue being humped.  Maybe it's a Vegas tradition, or maybe it's just extremely intoxicated guy that is too cheap to buy a hooker.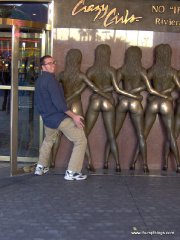 Share