Let's Have a Three Way…. With a Bear!
January 7, 2011 in Statues
So what do we have here? A couple of Indiana boys
humping the crap out of a bear while on a camping trip. Sounds
a little suspect to me. So if you are going to have a three
way with a bear, here a few rules to go by.
Take the bear from behind, missionary style with a bear
is bad because of the claws. They like to pull your hair by
ripping your scalp right off.
If the bear is humping you, it is in your best interest to play dead. If you
act like you enjoy it, then his friend, Bruce, will want to join
in.
ALWAYS USE PROTECTION
I don't know why you ever would, but never mention Winnie
the Pooh while humping a bear. Bears hate that yellow
freak.
Once you go black bear, you never go
back.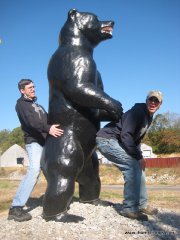 Share