Deer Humpers Rejoice!
April 15, 2011 in Statues
I think I am all out of jokes about people humping fake deers.  I probably have 20 or so submissions with people humping deer.  I guess I could make fun of the guy doing the humping, but I really don't have that in me today.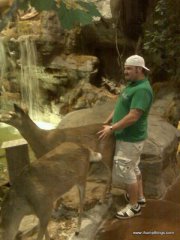 Anyway, here is a picture of a guy in a Bass Pro Shop humping a a fake deer.  Enjoy and have a good weekend.
Share