What is up with the Cannon humping?
February 9, 2011 in Random
Here is another picture of a guy humping a cannon.  We get lots of pictures of guys humping cannons.  I don't know if they are really humping the cannon or wishing their own cannon was this size.  My college thesis actually proved that males that see a phallic symbol in a public area will be drawn to it and will place the phallic symbol near their crotch region and act like the symbol is their own.  They may even thrust hips back and forth to show off their manly status.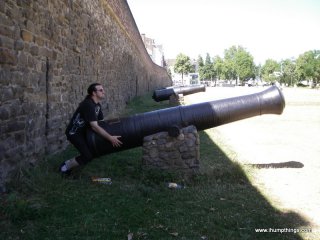 Share